Jimmy Six
From Twilight Heroes Wiki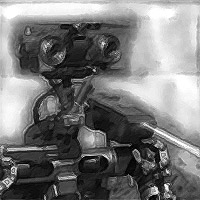 Jimmy Six
You are fighting Jimmy Six.
Jimmy Six is an escaped military robot who achieved self-awareness when he got tired of being shot at by other robots. Now he's on a mission to complete the last directive he was given before achieving awareness: disassemble, disassemble, disassemble ....
Your opponent attacks ...

Hit messages:


He hits you for X damage.

Critical hit message:

Your opponent has a critical hit! He hits you for X damage.



Miss messages:
and misses.
Fumble messages:

Your foe fumbles! He takes X damage.

Victory! You beat up your foe and win the combat!

Unspecified chip drop

You gain (8*Level, cap 400) experience.
You got an item: Jimmy Six's laser

(Guaranteed Drop)

Known resistances/weaknesses
Unspecified
Locations
References