Oversize rattlesnake
From Twilight Heroes Wiki
Return to outskirts of Area 54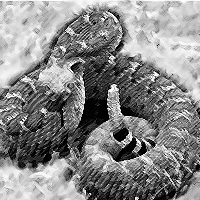 You are fighting an oversize rattlesnake.

This is an oversize rattlesnake. Which is something like one of those oversize novelty hands people wear at sporting events, except that the novelty of the rattlesnake lies in its ability to swallow you whole.

Hit Message(s):
Hit Message 1
Hit Message 2


Critical Message(s):
Critical Hit Message 1
Critical Hit Message 2


Miss message(s):
Miss Message 1
Miss Message 2


Fumble Message(s):
Fumble Message 1
Fumble Message 2


Victory! You beat up your foe and win the combat!

You gain 64 experience.
Location(s)