Green Horseshoe of Death
From Twilight Heroes Wiki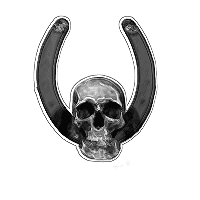 Green Horseshoe of Death
You are fighting a Green Horseshoe of Death.
You try to start up the executable, but no luck! In fact, the opposite of luck happens!
There's a saying, two wrongs don't make a right, but three lefts do. Apparently combining two pieces of good luck--a clover and a horseshoe--make for one very evil computer component indeed.
Your opponent attacks ...

Hit messages:

The horseshoe flies through the air and gets a ringer around your neck.
The horseshoe drops onto your head. They can't all be glorious descriptions of epic combat. Sometimes you just get cliches.
The horseshoe spins around so all the luck leaks out all over you. Who knew that luck was corrosive?

(acid) damage

It hits you for X damage.

Critical hit message:

Your opponent has a critical hit! It hits you for X damage.



Miss messages:

The horseshoe lands at your feet. In this case, close only counts in hand grenades.
You flip the horseshoe so that the prongs point up, keeping all that tasty luck inside.
The horseshoe is firmly nailed to a rafter, so it just sort of sits there.
Fumble messages:

Your foe fumbles! It takes X damage.

Victory! You beat up your foe and win the combat!

You gain 120 experience.
Known resistances/weaknesses
Verified to have no resistances or weaknesses.
Locations
Notes