Jellyfish bot
From Twilight Heroes Wiki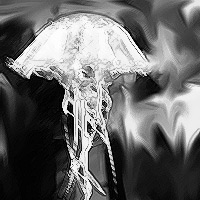 jellyfish bot
You are fighting jellyfish bot.
This is a robotic jellyfish. If you could just find a robotic peanutbutterfish and a couple slices of bread, you'd have yourself a sandwich.
Your opponent attacks ...

Hit messages:

Not overly concerned with biological realism, a port opens in the side of the jellyfish bot, and it shoots you with a large harpoon.
The jellyfish bot stings you with its entangling tentacles. Ow! Ooh!
The jellyfish bot entangles you in its stinging tentacles. Ooh! Ow!

It hits you for X damage.

Critical hit message:

Your opponent has a critical hit! It hits you for X damage.



Miss messages:

The jellyfish reaches for you with its tentacles, but you swish the water gently and it's washed away in the slight current.
The bot's tentacles wrap around you, but your clothes protect you from any damage. I guess that's yet another reason not to adventure naked.
The jellyfish tries to sting you, but you take a step out of the water where it can't reach you. You give it a mocking "ha-ha!" for good measure.
Fumble messages:

Your foe fumbles! It takes X damage.

Victory! You beat up your foe and win the combat!

You gain (scales by stats) experience.
You got an item: enerbun globule

(49.9 ± 1.1%)
You got an item: laser macrodiode

(9.6 ± 0.6%)

Known resistances/weaknesses
Verified to have no resistances or weaknesses.
Locations
References