Flamethrower pillar
From Twilight Heroes Wiki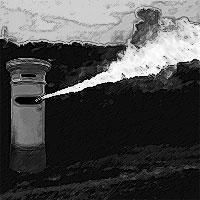 flamethrower pillar
You are fighting a flamethrower pillar.
A small mechanized tower firing jets of flame stands between you and your goal. You think just once you'd like to run into a flame-catching pillar instead.
Your opponent attacks ...

Hit messages:

You fall for the sign indicating this thing is a mailbox. It waits until you get close with your mail, and then WHOOSH!

(fire) damage

The pillar decides it thinks you're a liar, and adjusts the temperature of your pants to accommodate that vision.

(fire) damage

You try to maneuver around the turret, you get out of range of the flamethrower, but the back hatch swings open and slams into your face.

It hits you for X damage.

Critical hit message:

Your opponent has a critical hit! It hits you for X damage.



Miss messages:

Flamethrower pillar? But you hardly even know 'er! You back off warily.
You whip out your portable grill and catch the jet of flame, making yourself some tasty barbecue in the process.
You stick the tip of your little finger into the flamethrower nozzle, blocking its attack.
Fumble messages:

Your foe fumbles! It takes X damage.

Victory! You beat up your foe and win the combat!

You gain 73 experience.
You got an item: electronic cabling

(15.6 ± 2.6%)
You got an item: titanium plating

(13.9 ± 2.5%)

Known resistances/weaknesses
Immune to fire damage.
50% weak to sonic damage.
Locations
Notes
Has zero dodge, i.e. every attack which is not a fumble will hit.
Has increased defense and offense (source).
References
The name of the foe, the image and the first hit message refer to pillar box, a free-standing post box used in the United Kingdom and other Commonwealth countries.
The second hit message refers to the Jump-rope rhyme 'Liar, liar, pants on fire.'