Queen of bass
From Twilight Heroes Wiki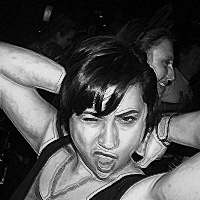 queen of bass
You are fighting the queen of bass.
She leads a lonely life. She's the hunter and you're the fox; beware of what is flashing in her eyes. She's going to get you ... This queen of bass is no joker; she's got an ace up her sleeve.
Your opponent attacks ...

Hit messages:

She drags you up into the light where you belong. The light burns--oh, how it burns!
She's got a hungry heart. And a hungry stomach. She bites you with her hungry teeth, and it really hurts. C'est la vie.
She punches you, which hurts a little. You wait for an apology, but she's never gonna say she's sorry. That hurts a whole lot more.

She hits you for X damage.

Critical hit message:

Your opponent has a critical hit! She hits you for X damage.



Miss messages:

She takes you to a place she's never been and leaves you standing all alone. It's awkward, but not painfully so.
She tells you "Don't turn around," but you do anyway. You see her heart breaking, and she starts to cry. Weirded out, you just walk away.
You see lies in the eyes of a stranger. Whoah--you're living in danger. Ah, well. You're used to danger, so you just shrug it off.
Fumble messages:

Your foe fumbles! She takes X damage.

Victory! You beat up your foe and win the combat!

You gain 33 experience.
You got an item: rave flyer

(21.3 ± 3.1%)
You got an item: sparkler

(22.7 ± 3.2%)
You got an item: white noise knuckles

(17.6 ± 2.9%)

Known resistances/weaknesses
100% weak to electric damage.
Locations
References
The foe references the band Ace of Base and their songs. The band name is also hinted in the description "ace up her sleeve".