NCI Live building
From Twilight Heroes Wiki
The Mick is somewhere in here. Can you find him before it's too late?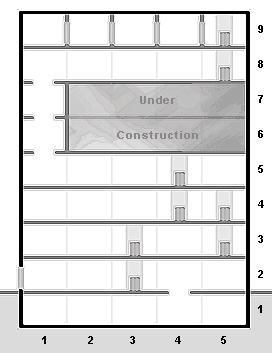 NCI Live building opens as you approach Rand for the second time during Cat and Mick-y Mouse Game.
The location includes 35 rooms numbered from left to right, from top to bottom, skipping levels 6 and 7. See schematic below.
A room can be in one of four states:

Accessible for visit. Once a certain number of foes are defeated, or non combats are encountered, the way is cleared and the room is no longer available. Marked with
The room is not accessible yet. Marked with
Accessible for perpetual visit. You can adventure in this room as much as you want. Marked with
Room cleared. Marked as an empty square.

You start with only room 26 available.
In each of the rooms except special rooms, either a non-combat can occur (same non-combats for the entire building) or a combat. Combats belong to one of three groups, based on the floor.

Floors 1,2,5 : top management foes
Floors 6,7 : middle management foes
Floors 8,9 : basement foes

Villains can be encountered as usual. Defeating a villain does not count as clearing the room.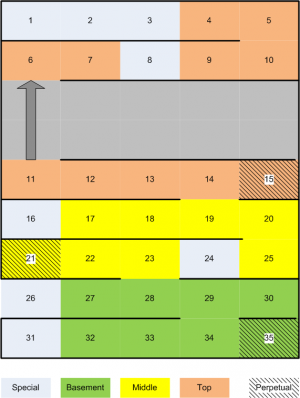 Special Encounters
Room 1
Room 2
Room 3
Room 6
Attempting to enter this room without a grappling hook from room 16 or an improvised grapnel or artisanal grapnel:
There's some kind of construction going on in the floors above you. Most of the area is walled off, but right here there's four floors of empty space up to the top level. It's way too high to climb, or even jump, and the space is too narrow to try flying. There's a lot of metal up at the top, though, if you had something you could hook over it and then climb up.

After getting a grappling hook or improvised grapnel or artisanal grapnel, you only get combat encounters. Encounters begin with:
You toss up the grappling hook/improvised grapnel/artisanal grapnel, latch it onto some cross-beams way up there, and shimmy your way on up the rope. Uh-oh, looks like someone's waiting for you at the top!
Room 8
Room 15
Perpetual
Room 16
Room 21
Perpetual
Room 23
Before Information Technology's Secret Weapon (with paperclip):
Gonna Let the Elevator Bring Us Down
Hm, the elevator doesn't seem to be working. That's gonna be a problem. They must have locked all the machinery down. You're going to have to find some stairs or figure out how to turn this thing back on.

Room 24
Room 26
Room 31
Room 34
Requires super jumping or you get:
Holy Floors with Holes in Them, <name>!
For about a quarter of a second you consider jumping through the hole in the floor here, but then decide that's a bad idea. For one thing, you don't know how to get back up. What if it's a trap? What if you starve to death down there?
Playing it safe isn't exactly your thing, but in this case you probably ought to be prepared with some super-jump option before going down there.
Maybe you could build yourself a set of boots or something? That army surplus store in Bayside sells some boots, then you'd just need to assemble them with something stretchy.
Room 35
Perpetual
General encounters
Combat
Basement
Middle Management
Top Management
Noncombat
If you somehow manage to enter an already cleared room:
Yeah, Empty Is Still Empty
You've already cleared this zone of baddies. It remains empty.

If you somehow manage to enter an impossible room:
You Want to Go Where, Now?
You're in an office building with a lot of different rooms on a lot of different floors. However, the combination of floor and room you're trying to go to doesn't exist, in this building, at least. Maybe you should double-check that address and make sure you're trying to go to the right place.